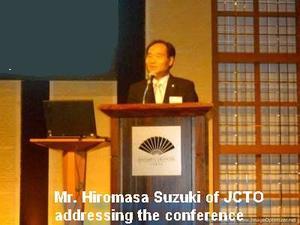 An international conference about fraud in Japan was held at a Tokyo Hotel. The conference was organized by NICE Actimize which is world's largest and broadest provider of financial crimes prevention solutions.
The agenda of conference was "Mitigating fraud in Japan, combating new fraud threats". Since Japan Company Trust Organization (JCTO) is supporting all forums for internet and Banking frauds, Mr.Hiromasa Suzuki director of JCTO attended the forum as Chairman of the conference. The participates addressed the conference about risk of internet and Banking fraud.
The main topics discussed were:
– Misuse of information and dispute resolution
– How to tackle Cyber-attack and Cyber-security
– How to prevent internet fraud
– Fraud risk management framework for financial institutions
– How to implement a successful internal fraud strategy
– Closing the fraud intelligence gap and role of the National Police Agency of Japan
– Lessons learned in deploying an effective cross-channel fraud prevention strategy
The participates from well-known fraud prevention agencies including National Police Agency (NPA) of Japan also answered questions from the audience and give valuable advice against cyber crimes.